Description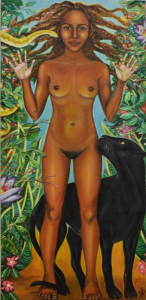 From the Goddess series: Goddess Chak Chel
Chak Chel; the Mayan Krone Goddess Aspect of the Great Goddess Ix Chel, is depicted with a Serpent headdress. This is because to the Mayan the Serpent is a symbol of Knowledge, Wisdom, Science and Medicine. Chak Chel is the keeper of Sacred Knowledge and Wisdom associated with, among other things, Science and Medicine, and is responsible for the Fertility of the land, and humanity.
She is also called; The "Great Rainbow" who prepares the way for the next age.
She is the keeper of the knowledge of Science and the Sacred Mysteries and Mid-wife of "What is to Come".
Known to many as the Goddess of Destruction, the Krone and her Wisdom is often misinterpreted as harsh and devastating because she knows what IS, and what must be done away with before "What is to Come" can be built and become Reality; and she holds the Knowledge and Wisdom to make this happen.
The panther/jaguar represents the night, the underworld and the night sun. Jaguar belongs to another space and world; not to this world, and therefore represents what is not controlled by man and the physical realms. Jaguar Medicine teaches us to "See" into the unknown, into the darkest parts of our self and shows us the ways, uses and Sacredness of Magic and Ritual, and helps us to hone our abilities to "See" with Clear Sacred Vision. Jaguar also brings the energy of Fertility into our lives; fertility of our Spiritual Practices, Mental Clarity, Emotional Control and Physical Fertility as well.